Commercial
Alongside our domestic work and bespoke commissions for individual customers we have carried out many projects that involve the design and making of new stained glass or restoration of existing stained glass windows for public and commercial buildings. Commercial work requires the same level of commitment, patience and skill that say a small heritage restoration project demands. Here are some examples of the work we have completed.
Here the project was to repair and restore the tube station signage back to its original state. The typeface is recognisable the world over and was originally conceived by Edward Johnston at the turn of the twentieth century. An interesting project that produced a highly satisfying result that is viewed by many thousands of people each day.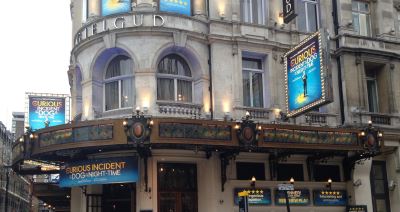 The Gielgud Theatre on Shaftsbury Avenue in London opened back in December 1906 and has hosted world famous shows. The project involved the repair and restoration of the distinctive stained glass balustrade above the theatre entrance. The glass was carefully chosen to match the existing pieces both in colour and texture.
The Pro Cathedral of the Holy Apostles was the Roman Catholic cathedral in Bristol from 1850 to 1973. The building has recently been redeveloped into luxury student accomaodation and during this redevelopment the circular window shown here was fully repaired back to its original design. Today it forms a stunning center piece in the communal lounge area.
Testamonials
Thank you for sorting this out at very short notice - very impressed and I would have no hesitation in recommending your firm.Andrew, Keynsham
Having gone through this process, I wish I had known earlier how important it is to make sure you speak to the right people with stained glass experience. Thank you for your help.Director, Joinery Firm
When we came to Bristol Stained Glass we were unsure if our beloved door could be fixed. We need not have worried the finished job is brilliant and we have no hesitation in recommending Craig and his team.Penny and David Jones, Bristol
I was recommended Bristol Stained Glass by one of our suppliers. I have been very happy with the service provided - a top class job carried out to high standards. Thank you. John, Director