Through different periods the styles, design, types of glass and colours have changed from the florals and geometrics of Victorian windows to the art nouveau and more stylised art deco patterns.
Bristol Stained Glass Ltd have supplied commissions for new and period homes as well as conversions with work being incorporated into new and existing doors, windows and panels providing successful interior additions to many homes.
All commisions are bespoke. In the past we have been shown photographs, tiles and even a part of an old railing (!) to enable us to create a design that the commissioned window would be based on. We work with you to create the window that you are really after. It is becoming increasingly popular for new commisions to be encapsulated into double glazed units which is a service we also provide.
Here are some examples of our work.
Previous leaded light was re-leaded, restored and returned to the original door.
Leaded light re-leaded throughout in a newly refurbished door.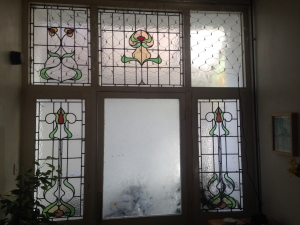 Following a recent house move the customer wanted to replace two plain glass panels with ones that matched the original design.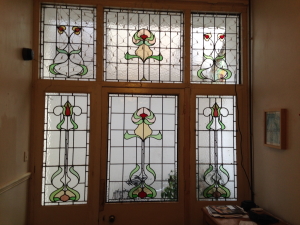 Two panels are replaced - these match the original design and bring the door back to its original glory.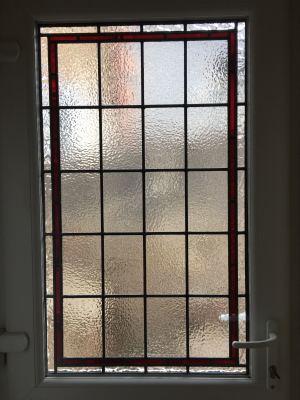 New rectangular patterned leaded light with a double border coupled with obscured glass for privacy.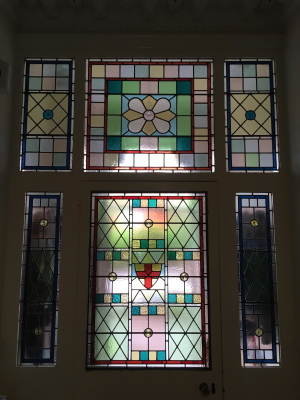 Full restoration for both door and side screen leaded lights in a Victorian property.
Bespoke leaded lights designed and made for a new door and the new side screens.
Following a house renovation project the customer wanted the plain glass to be replaced with a more suitable traditional pattern.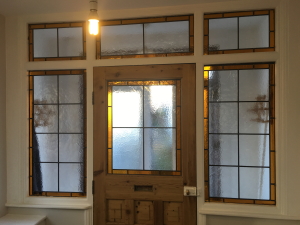 Fully replaced with paned obscure glass and an amber border design.
Door panel was badly damaged following a hefty door slam.
Fully renovated by removing damaged leading and the panel was re-leaded throughout. Missing panels were also replaced.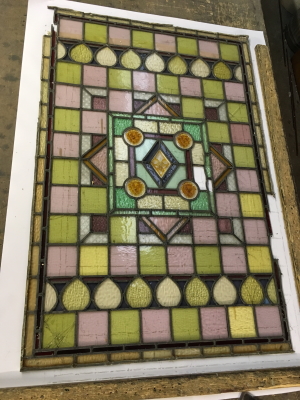 A door panel in a poor state of repair.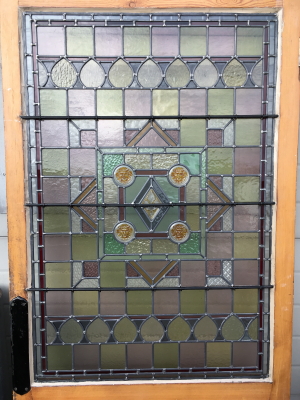 Fully repaired by being re-leaded throughout and refixed back to the original door.
Two panels had been damaged following a break-in.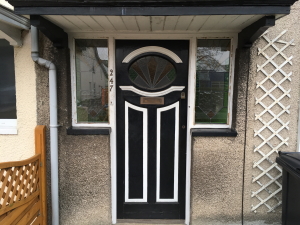 Both were part re-leaded repaired and fixed back into the original wood frame with 4mm toughened glass to offer additonal protection from any further problems.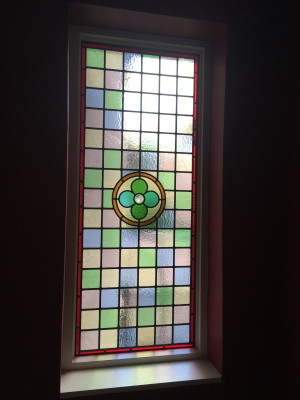 The customer requested a pair of panels made to the original designs to fit into their new home.
Both were missing when they moved into their new home.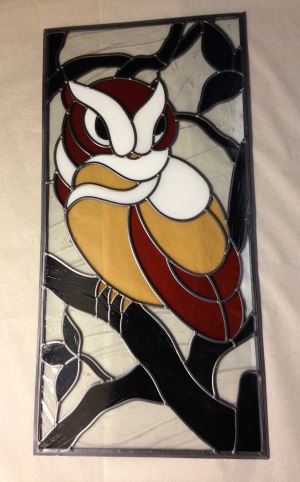 The customer had a very specific design in mind and we worked closely together with the first stage being a technical drawing of the design. Once this was agreed the glass type, texture and colours were then chosen. Finally the window was created by hand and the customer was delighted with the finished creation.
A tricky project as the badly damaged pane needed careful restoration to replace the missing panes. Careful planning was required when cutting the new glass, so that the lead cames align in adjacent panels and the overall dimensions are met. The grade of restoration glass was chosen to match the existing glass.
Damaged leaded lights can be a real trial both for the customer and ourselves - however we make this process easier by stocking many different size leads and also recycling old out of production patterned glass. This allows us to sensitively match and retain the original feel and style of the window.
The fully restored pane - hard to tell how badly damaged it was before being carefully and lovingly restored. Both the customer and ourselves were delighted with the result and this highlights how careful and considered restoration can bring deliver results.
Careful restoration of these leaded light panels brought new life to old windows - here is a picture before the restoration took place with the panel looking very tired and in need of siginificant repair.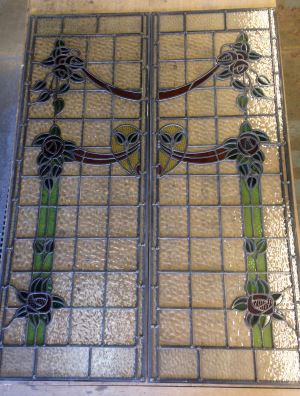 Here are the finished pair of panels - the customer was delighted with the result and took great satisfaction in deciding to arrange for them to be repaired back to their former glory.